Topical Finasteride for Hair Loss: Better than Oral?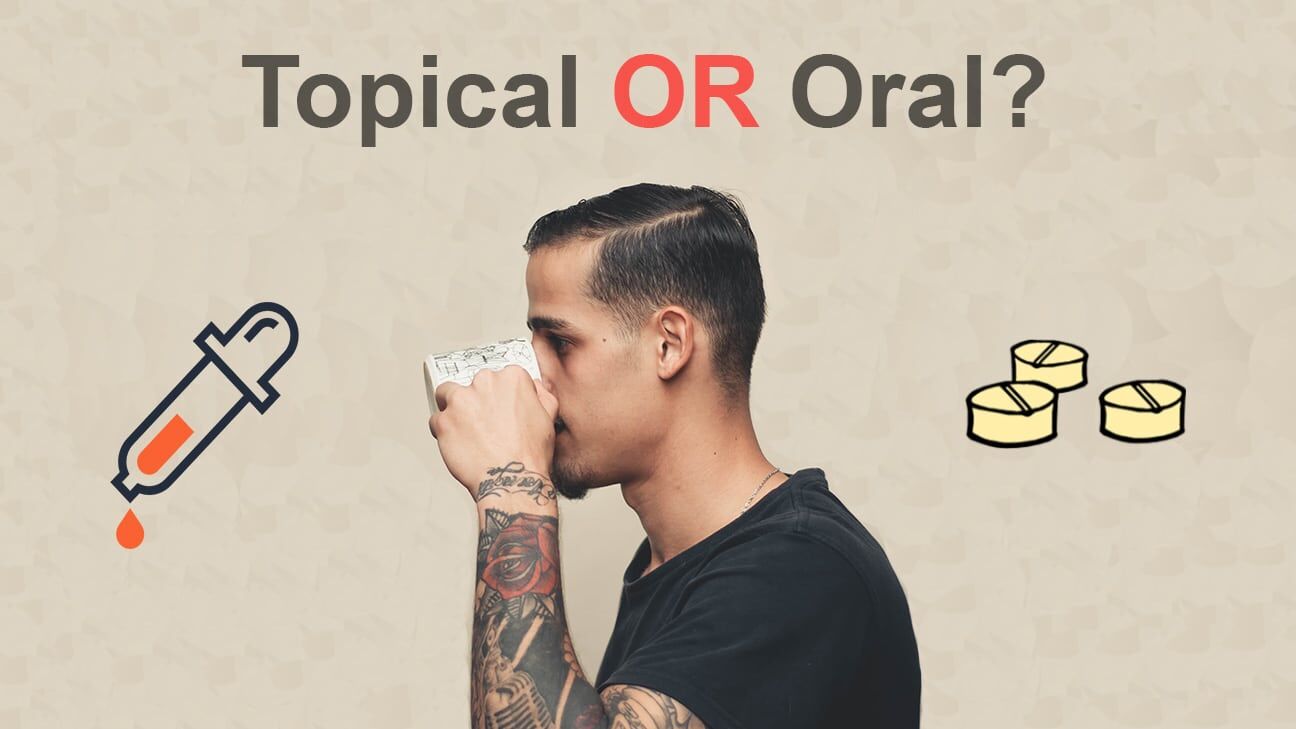 If you buy something through a link on this page, we may earn a small commission. It does not affect the product price. Read our advertising policy.
Finasteride is a 5α-reductase inhibitor also known as a DHT blocker. Oral finasteride is one of the two FDA-approved medications for male pattern alopecia, the other one being topical minoxidil, which is FDA-approved for both men and women.
Dihydrotestosterone (DHT) is the androgen that causes the conversion of terminal hair to vellus-like hair. Thicker, darker, and longer strands gradually turn into miniaturized hair (see fig. 1). Inhibiting hair miniaturization is the main goal in the management of androgenetic alopecia.
This is achieved by inhibiting the enzyme that produces DHT. Hence 5α-reductase inhibitors, such as finasteride, are the cornerstone in the treatment of male pattern alopecia.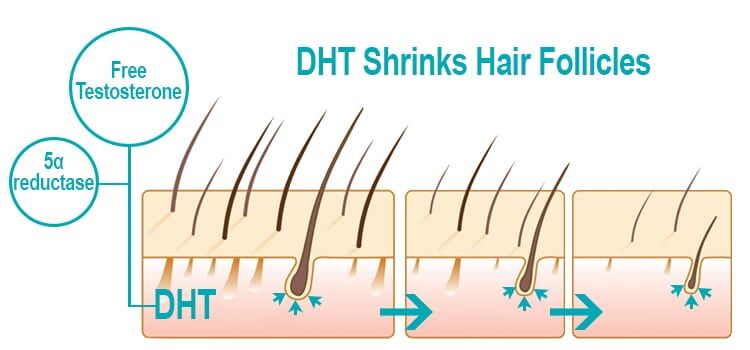 Recently, the topical form of finasteride has been circulating in the market. It is being sold as an alternative treatment option for androgenetic alopecia.
Even without FDA approval, can topical finasteride be considered effective, and should it be a part of your hair loss treatment regimen?
Efficacy of topical finasteride
One study showed that the combination of 3% minoxidil with 0.1% finasteride lotion exhibited higher efficacy than 3% minoxidil alone based on a global photographic assessment after six months of treatment for men with male pattern baldness.
In another study, topical finasteride 0.25% with minoxidil 3% solution had superior efficacy than minoxidil 3% alone for promoting hair growth among males with androgenetic alopecia after six months of treatment. So, combining topical minoxidil with topical finasteride will yield better results.
Topical finasteride vs. placebo
The first randomized control trial on topical finasteride as a treatment for androgenetic alopecia was completed in 1997. 28 males and 24 females were treated with topical 0.005% finasteride solution twice daily vs. placebo for 16 months.
It was found to decrease the rate of hair loss compared to placebo with just six months of application. After 16 months of treatment, hair shed count after washing hair:
Decreased by 26.1 % in the finasteride group
Increased by 8.4 % in the placebo group
Topical vs. oral finasteride
A phase-3, randomized control trial on 458 males was done to evaluate the efficacy and safety profile of 0.25% topical finasteride vs. 1mg oral finasteride vs. placebo. The change from baseline in target area hair count (TAHC) at week 24 was significantly greater with topical finasteride than placebo, and numerically similar between topical and oral finasteride.
They also found that there is a lesser chance of systemic adverse reactions of a sexual nature associated with a decrease in DHT with topical finasteride. The maximum plasma finasteride concentrations were >100 times lower and the reduction from baseline in mean serum DHT concentration was lower (34.5 vs. 55.6%) with topical vs. oral finasteride.
A study involving 45 patients with male pattern hair loss was published in 2002. The subjects were divided into two treatment groups – finasteride 1% gel with a placebo tablet, and finasteride 1mg tablet with a placebo gel.
The gels were applied twice daily, and the pills were taken once a day for six months. This study showed that increased terminal hair counts were seen after three months in the group that received the finasteride gel (+ oral placebo), while similar improvement was seen in the other group (oral finasteride + placebo gel) after just one month of treatment.
However, at the end of the treatment period, there was no significant difference between the two groups as all subjects experienced increased hair thickness, hair counts, and decreased bald areas. This study showed that, in terms of efficacy, topical finasteride had comparable results with oral finasteride.
Topical finasteride for female pattern hair loss
Since it is a multifactorial disease, different treatment modalities have been tried to manage female pattern hair loss (FPHL), including topical finasteride. Oral finasteride is teratogenic and is to be avoided in pre-menopausal women.
In 2019, a study was conducted on 119 post-menopausal women with FPHL treated with either topical finasteride 0.5% and minoxidil 2%, or 17β-estradiol 0.05% and minoxidil 2%, once a day for 18 months. Treatment with topical finasteride and minoxidil showed significant improvement and higher efficacy than the 17β-estradiol and minoxidil combination.
In another study on post-menopausal women with FPHL, the combination of topical finasteride 0.25% and minoxidil 3% solution showed significantly superior efficacy compared to minoxidil 3% monotherapy to increase hair diameter after 24 weeks of treatment.
Topical finasteride's side-effects: Is it safer?
There are many side effects of oral finasteride: erectile dysfunction, ejaculation disorder, decreased libido, breast tenderness and enlargement, allergic reactions, depression, headache, dizziness, elevated liver enzymes, and prostate cancer.
As finasteride is not commonly used in the treatment of FPHL, the side effects in women are not well described. However, it is a pregnancy category X drug as it is teratogenic. It has to be avoided in women of childbearing age.
Side effects of topical finasteride
Topical finasteride offers the potential to reduce systemic effects by preferentially inhibiting 5-α reductase in the scalp. Serum DHT levels are lower compared to oral finasteride. Side effects noted with topical finasteride are more of a localized nature to the area of application: itching, redness, burning sensation, and skin irritation.
In a study, 18 males with androgenetic alopecia received either finasteride 0.25% solution applied twice a day, or finasteride 1mg tablet taken once a day. It was noted that both finasteride forms reduced plasma DHT in just seven days.
However, the same study compared how oral and different strengths of topical finasteride affected DHT levels in the scalp and serum. Lower levels in the blood reduce the chances of side effects.
DHT Reduction in Scalp and Serum (blood) / Oral vs. Topical Finasteride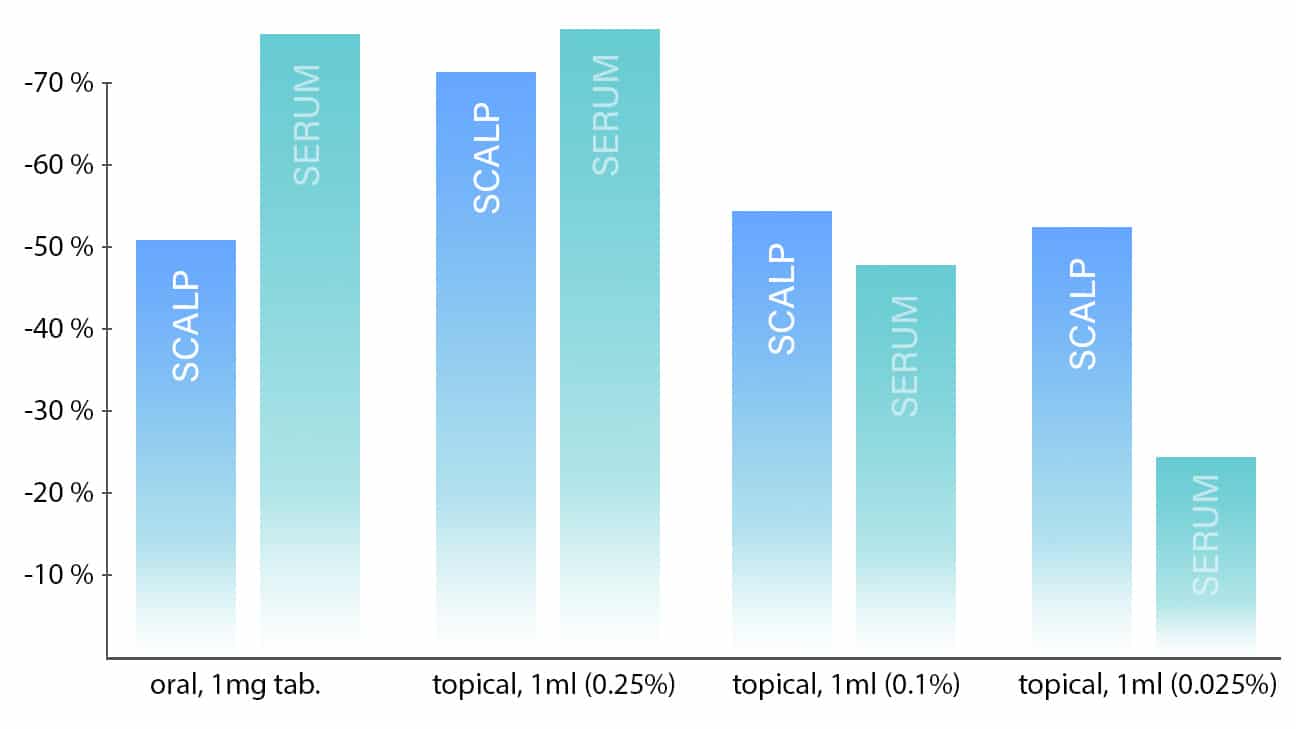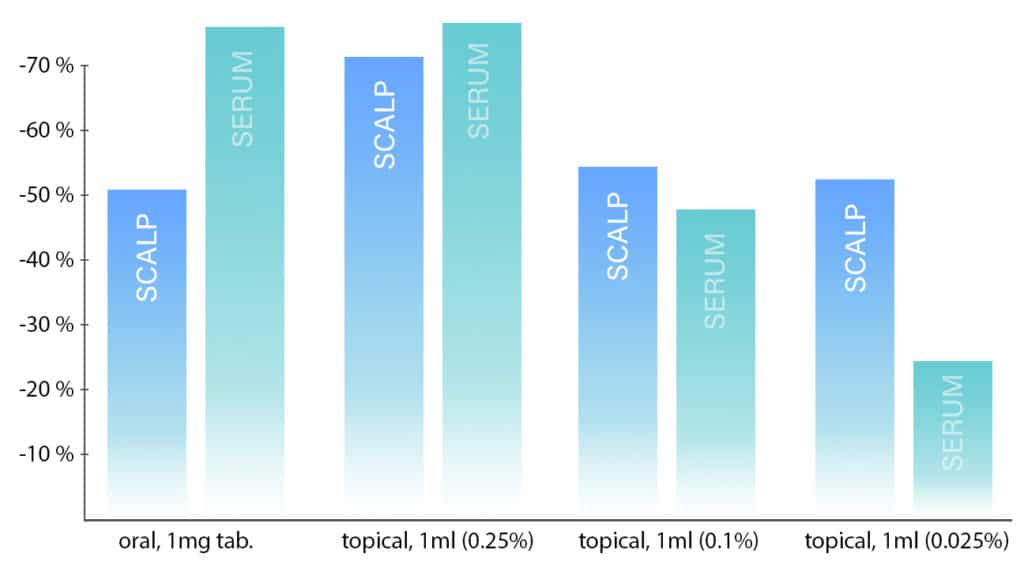 Figure 2 shows that although 1 mg of oral finasteride caused a great reduction of DHT in the scalp, superior results can still be achieved with topical finasteride.
Topical finasteride (0.1% and 0.025%) is less likely to cause side effects since its associated decrease in serum DHT is less compared to the oral form. But it should be used with caution as it can still reduce serum DHT to a certain extent. Particularly, women who wish to conceive must avoid using it altogether.
Where to buy topical finasteride?
Topical finasteride is relatively new in the market. As a result, only a few companies are currently producing it.
These companies may manufacture topical finasteride as a single medication or in combination with minoxidil. One of the popular sellers of topical finasteride is MinoxidilMax, which offers the following solution: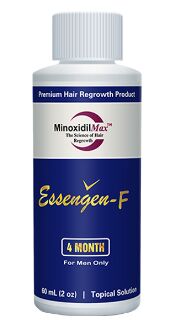 Conclusion
Androgenetic alopecia is a distressing and chronic condition – continued medication is needed to stop progression and achieve lasting results.
Finasteride 1mg/day, an FDA-approved oral drug for male androgenetic alopecia, is proven to be effective. However, its potential side effects limit its preference, especially for long-term treatment.
Existing studies that prove the efficacy of topical finasteride make its use promising. I personally offer topical finasteride as an alternative, especially for men who have been using oral finasteride for a long time and refuse to continue it further. It is also safe to use in women who have attained menopause.
After all, in managing any disease, multiple treatment options and modalities should always be offered to patients to attain maximum efficacy and treatment compliance. It has to be regularly monitored by a dermatologist to detect possible side effects, if any.
Was this article helpful?