Dermaroller for Hair Loss: An In-depth Guide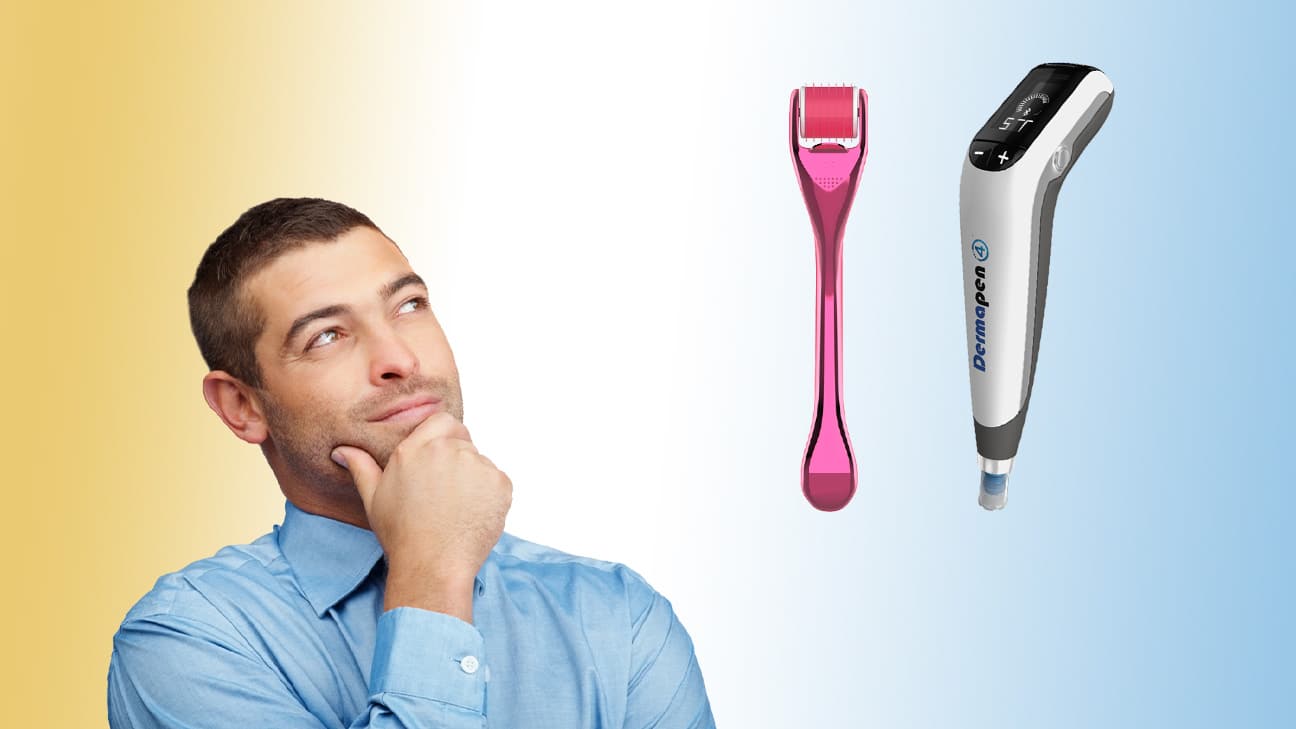 It is a stressful time when you start losing your hair. You may feel like your life is so messed up. This is a psychological problem for many people as they may feel self-conscious, unattractive, that they are getting old, etc. It's even worse for the people who experience loss of hair when they are still relatively young.
There are many options out there as a solution for hair loss, such as home remedies, creams, sprays, low-level laser therapy, etc. This leaves many people who are trying to fix their problem, confused and a little lost.
It doesn't make sense to give up on hair loss treatment just because one method didn't work for you. There are several other treatment strategies.
Are you supposed to give up yet? Of course not. Especially when you haven't tried using a dermaroller.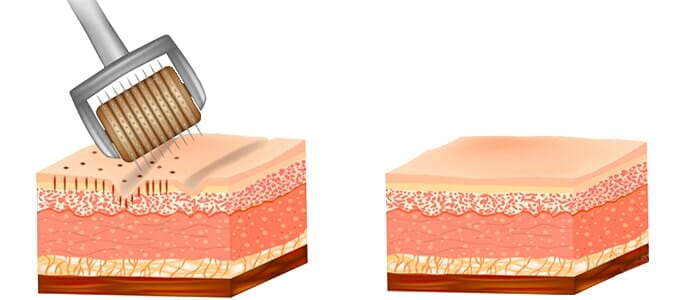 In this article, we are going to explore one of the favorite hair regrowth techniques that have yielded great results for countless individuals who had been previously battling hair loss – the dermaroller. But what is a dermaroller? How does it work? Is it really effective for treating hair loss? Read on:
What is a dermaroller?
Dermaroller is a hand-held device with a cylindrical roller that is studded with tiny micro-needles usually made of titanium.
The needles are used to make tiny pinpricks into the skin. The needles penetrate into the dermis deep enough to stimulate the production of new cells and boost circulation. As these are very tiny, they cause minimum skin damage or pain.
This device not only treats hair loss but also is excellent for improving skin texture and treatment of acne scars as microneedling induces the production of collagen in the skin. Dermarolling can be done at home, but the more advanced form of micro-needling is done by a medical professional, such as a dermatologist.
Does the dermaroller really work?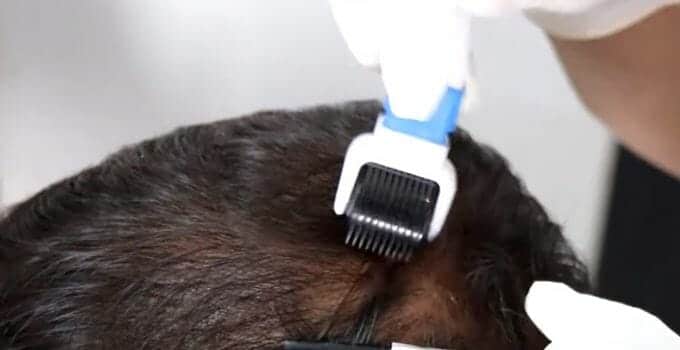 The short answer to this question is yes, to some extent, it works for many people.
But the long answer is something like this:
Reading the customer reviews for this product may lead to the impression that many have had extraordinary results. But on the other hand, it hasn't worked for everyone.
Like all treatments, the effectiveness of dermaroller varies from one user to another. It also depends on how experienced a person is at using a dermaroller.
Clinical research has proven that micro-needling is effective in treating hair loss treatment. It is safe for your scalp and hair and was also proven to be more effective when pairing with a hair loss medication.
It helps to preserve the hair that is already there. Stem cells are produced in the skin, increasing the growth of your hair.
Despite its appearance, it is a very productive tool when it comes to tackling the challenge of treating hair loss.
However, upon studies on the record about the use and results of dermaroller, micro-needling treatment is considered to work best for those suffering from androgenic alopecia.
Research published in the Indian Journal of Dermatology states that the addition of micro-needling to the patient's treatment plan shows significant results. New hair growth can start after 8-10 sessions.
All in all, in most cases, users have given reports confirming the effectiveness of this micro-needling procedure, especially then used in combination with other treatment options, such as minoxidil, nanoxidil, or platelet-rich plasma (PRP).
What is the mechanism behind micro-needling?
These are the main four points describing how dermarolling benefits your hair:
What size of dermaroller should you use for hair loss?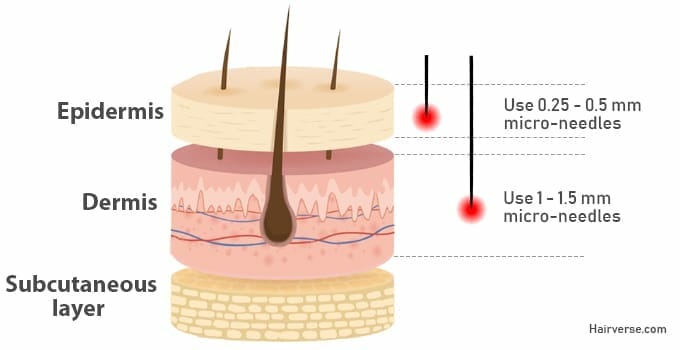 The difference between all of the dermaroller products is based on the length of the needle. There are multiple sizes to choose from. Currently, you can choose from these sizes varying from 0.15mm up to even 2.5mm.
There is a proven strategy that works quite well: you can use two dermarollers of different sizes to treat your hair loss.
What could be the reason for this?
Dermarollers with smaller needles (up to 0.5 mm) are enough to boost the absorption of topical scalp treatment solutions. And although some patients worry about experiencing pain or bleeding, that does not cause significant pain when the latter needles' length is used. It is also safe to use in the comfort of your home.
A dermaroller with longer needles (0.5 – 1.5 mm), on the other hand, significantly boosts the production of endothelial growth factors for hair, as it reaches the hair bulge region. Such dermarollers for hair growth are the most effective.
Ideally, you should use it once every 3-4 weeks, not shorter than that. Especially when longer needles (1.5mm) are used, as you need time for cells to regenerate.
If the procedure is painful and makes you feel uncomfortable, it can be managed by applying slightly less pressure against the skin or using numbing cream.
Anyways, another recommendation is that you should use these large needles under close supervision by a professional.
How to use a dermaroller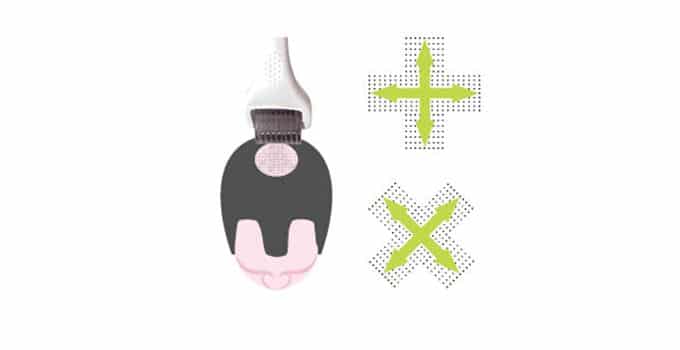 The micro-needling device can be a dermaroller or a dermastamp. Micro-needling requires certain steps for it to be effective.
Be sure to clean the dermaroller before the use with alcohol or a disinfectant spray. Also, clean your scalp before beginning the treatment. If you use longer needles and cannot tolerate the pain, you can apply a numbing creme on your scalp before the procedure too.
To start off, apply the micro-needling device directly onto your scalp and roll it evenly to ensure that you cover the scalp fully. But make sure to do that in sections.
Subsequently, use a dermastamp or a microneedle (depending on the length of your remaining hair. Remember to wet your hair if it's long, but you still want to use a dermaroller.
Start at the frontal region of your head at the hairline as you advance and work your way towards the back of the head or the occipital region of the scalp. Do this one time up and down, then once going side to side, and then one time going across diagonally. You then have to repeat this process.
You should be careful to repeat this process back and forth until you have covered all the scalp target areas. I always recommend rolling or stamping each area about 3-4 times. This ensures that the scalp is covered adequately and that the hair restoration product is well absorbed.
Each time you use the dermaroller, disinfect and dry the roller before putting it away. By following these strategies, the dermaroller technique will be more effective. You can supplement it by applying the hair restoration product once again and massaging your scalp gently.
Potential side effects of using a dermaroller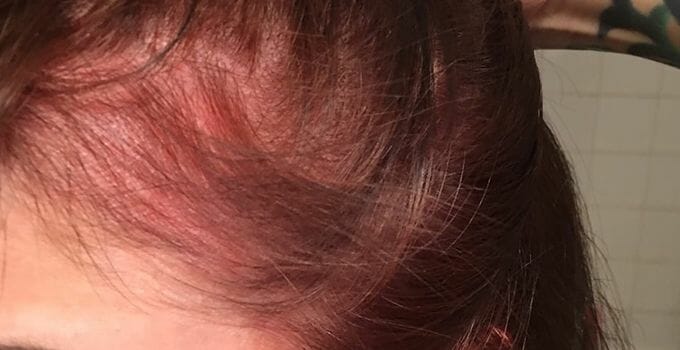 The dermaroller is a safe product to use, but there is a potential risk of complications. Apart from the pain you feel when you using larger dermarollers, the side effects are a combined contribution from other hair loss treatments such as topical products.
What does this even mean?
Since most topical treatments for hair loss are alcohol-based, a combination of them and punctures on the scalp may be a prerequisite for skin irritation, dryness, and itchiness.
These side effects are not observed when the topical treatments for hair loss are not alcohol-based hence the reason why they are highly recommended.
Other potential side effects can occur based on the needling treatment you use. When you consider the procedure for using a dermaroller outlined above, the first and the last processes involve applying topical hair treatments.
Now, if you use larger needles, you will have to go easy on the final step of applying topical treatment after rolling, especially when the topical product is minoxidil.
Let me make the warning more straightforward and easy to understand:
Never apply minoxidil immediately after a micro-needling treatment with needles measuring 1.5 mm.
NOTE

If you use longer needles and experience bleeding, consider waiting for at least 24 hours and let the punctures heal before applying your topical hair loss treatment product.
Nevertheless, an infection can occur because you are puncturing the scalp when using the dermaroller, which causes entry points for the germs to enter. This is why it is necessary to disinfect the dermaroller before and after each use.
It can become painful while you are treating your scalp and experience soreness afterward. What is more, it can lead to discomfort, oozing of fluid, and bruising of the skin.
After treatment, you may experience swelling and redness of the treated area, and this may be experienced for a couple of days after treating the scalp.
Microneedling tips
The needle sizes recommended for the procedure are dependent on the amount of hair that is still remaining on the head.
I know you might be asking, how about the treatment for women who have lost their hair, though the remaining hair is still quite long? Well, a dermastamp is the preferable choice for such cases. Dermastamps prevent hair from getting caught up within the roller and pulled.
If women with long hair need to use a dermaroller, the hair should first be wet to make it stay flat. This reduces the likelihood that the roller will catch and pull the hair.
Ideally, using dermastamps takes a considerable amount of time, longer than when using a dermaroller. It is important to ensure that the treatment covers every area of the scalp.
NOTE

Be cautious when choosing the dermaroller. Very cheap dermarollers often have needles of asymmetric shape and are made of low-quality materials.
Ideally, consult your dermatologist, before ordering a dermaroller. If that is not an option for you, do extensive research and opt for reputable brands, who have years of experience and use premium materials for their products.
If you're looking for an inexpensive option and want to purchase your dermaroller from a reliable supplier – you might want to check D.S. Laboratories, which specializes in hair loss products and currently offers a 1mm STIMUROLLER+ dermaroller for $18.
To sum up this section, if you are treating your hair loss at home, you should be aware that hair loss treatment is an ongoing process and not a one-time event. This means that you should try getting regular treatments to achieve optimum results.
Conclusion
Quite many studies have highlighted the effectiveness of micro-needling in the treatment of hair loss. Although there are factors that determine how effective your results will be, the importance of microneedling for hair loss treatment is getting significant.
Was this article helpful?