DHT Blockers for Hair Loss: An In-Depth Overview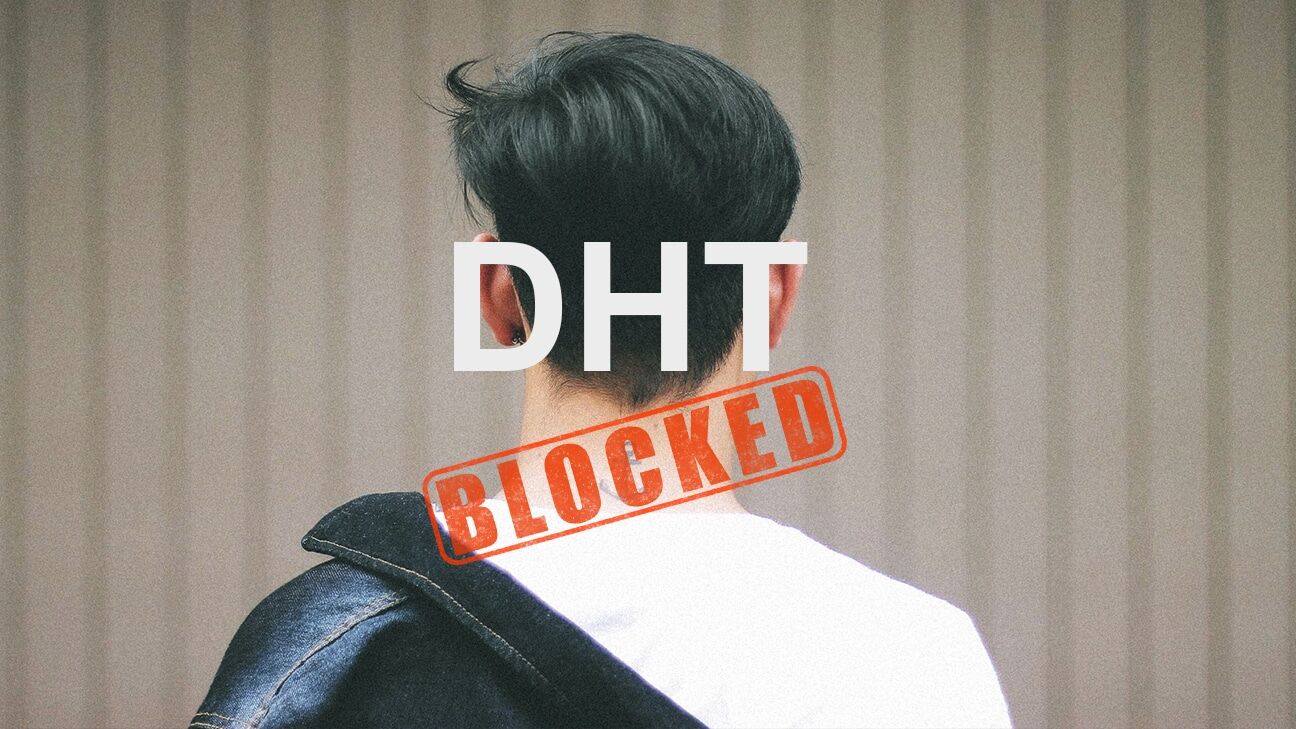 DHT blockers (oral) are one of the few treatments for androgenetic alopecia (male and female pattern hair loss) that is approved by the FDA. However, there is a lot of misinformation floating around on the internet about the use and side effects of DHT blockers and many unsubstantiated claims about its alternatives.
With this article, we would like to briefly summarize what a DHT blocker is all about, the "classic" DHT blockers, and the newer options which look promising based on the current evidence.
DHT and its connection to hair loss
Every hair follicle is like a mini-organ in itself. It has its own regulatory system in the body. DHT or dihydrotestosterone is relevant in the context of androgenetic alopecia or familial/hormonal alopecia.
Depending on gender, it is known as a female or male pattern baldness. It leads to the hairline's recession, reduction of individual hair thickness in affected areas, and often a generalized decrease in hair density, especially in females.
It is well known that hair growth and, ultimately, hair loss are tightly associated with male sex hormones called androgens. To be clear, females also have androgens, just in a very small amount, and most of them get converted into female sex hormones.
So, this androgen is responsible for hair growth on the face but causes hair to fall from the scalp. DHT is the form of testosterone that binds to the hair follicles, drastically reduces the growth phase of the hairs, shrinks them, and makes them give rise to smaller and thinner hair at first, and later no hair at all.
This process is faster and more visible in people who are genetically susceptible to it. DHT is consistently found higher in people with androgenetic alopecia. Additionally, there is a new school of thought claiming DHT leads to a decrease in the scalp's fat cushioning, leading to an increase in the pressure on hair follicles and, ultimately, to more hair loss. (1, 2)
The DHT blockers role in androgenetic alopecia
Dihydrotestosterone (DHT), as mentioned above, is the primary androgen responsible for male/female pattern hair loss. DHT is a product of testosterone metabolism.
So, testosterone, the primary hormone, gets converted to DHT by the enzyme 5-alpha-reductase. Substances that inhibit the enzyme 5-alpha-reductase would stop DHT production and be an effective means to reduce hair loss.
Like any other treatment of androgenetic hair loss, the action of DHT blockers is an ongoing process, and they have to be taken for a really long duration, or even permanently, for sustained improvement.
If therapy is stopped, hair is most likely going to return to the pre-therapy state. However, you could use potent DHT blockers for the first therapy phase and then maintain it with weaker, better tolerable options.
Types of DHT blockers
A number of compounds can block DHT to varying degrees. There are traditional oral medications, and then there are topical and, recently, natural alternatives that provide a weaker but safer option for blocking DHT and treating hair loss.
1. Oral medications:
Finasteride
Finasteride is a 5-alpha-reductase inhibitor, the most widely used systemic treatment for hair loss, and is FDA approved for this indication. Finasteride reportedly decreases the DHT by 70%. Finasteride leads to more hair growth, shown by an increase in hair count in the scalp's vertex area than the frontal area. (3)
Finasteride, in doses of 1 mg daily, should be taken as a trial for six months to one year, and when a benefit is noticed, it can be taken indefinitely. There is no treatment plateau observed with finasteride – a 10 years follow-up study showed that in 21% of the cases, treatment beyond five years showed better results. (4)
Finasteride has not shown the same consistent level of success in female pattern hair loss when compared to male pattern hair loss, especially in the post-menopausal age group. But it does show moderate improvement in androgenetic alopecia in most patients when dosed a little higher. (5)
Dutasteride
While finasteride only inhibits 5-alpha-reductase type 2 (one of the forms of the enzyme), dutasteride inhibits both its forms. A meta-analysis showed that dutasteride is superior to finasteride in terms of total hair count in a dose of 0.5 mg/day. Dutasteride is three times more effective than finasteride in inhibiting 5-alpha-reductase type 2. (6)
It can also result in a significant reversal of hair shrinkage as compared to finasteride. That means the miniaturized hair follicles can also produce thicker terminal hair when treated with dutasteride. A study that tried dutasteride therapy on patients who did not respond to finasteride also saw an improvement in about 77% of them. Dutasteride is not approved by the FDA for females. (7)
Spironolactone
Spironolactone is an anti-androgen and blocks the interaction of DHT with hair follicle receptors. In doses of 100-200 mg daily, around 75% of women reported stabilization of hair loss and hair growth. In women, spironolactone offers a more attractive therapeutic option as compared to finasteride because of its more suitable side effect profile. (8)
Cyproterone acetate
Cyproterone acetate is a commonly used oral contraceptive pill, which in combination with estrogen, also blocks the action of DHT on hair follicle receptors and reduces total testosterone and, by extension, DHT levels. Treatment with 50 mg daily cyproterone acetate on pre-menopausal women showed an improvement in hair growth in around 44% of participants. (9)
2. Topical medications:
Topical finasteride
Topical use of finasteride has been developed as an attempt to avoid the side effects of systemic finasteride while retaining its strength of being a potent DHT blocker. A study conducted on 38 patients showed no significant difference in the increase in hair count and decrease in the bald area in topical and systemic finasteride treatment. (10)
It also provides a very lucrative option in case of female pattern hair loss for those who do not want to take the anti-androgen therapy systemically. Topical finasteride with minoxidil is also a proven way to maintain the results after stopping oral finasteride therapy. Though promising, the studies are still limited and have been done on small sets of patients and for a short duration. (11)
In light of current evidence, it is perhaps more prudent to involve it in a therapy plan as an adjunct to topical minoxidil and/or oral therapy until we have more data on its long-term efficacy and safety. (12)
Ketoconazole
Studies have shown that 2% ketoconazole disrupts DHT formation locally and can be a valuable addition as a shampoo to the therapy of androgenetic alopecia in combination with other traditional options like finasteride and minoxidil. (13)
It not only acts on the hormonal angle, but ketoconazole also stops Malassezia fungus's growth on the scalp and reduces inflammation, which provides a conducive environment for hair to grow. It is, however, much less effective than other treatments and not very useful as a monotherapy. (14)
Azelaic acid
Although azelaic acid has been shown in laboratory studies to inhibit 5 alpha-reductase and thus reduce DHT, human trials are lacking. In combination with other hair growth ingredients, there are already many products in the market with azelaic acid, as it is tolerated pretty well.
Alfatradiol (17-alpha-estradiol)
Another potentially effective DHT blocker for female pattern hair loss, alfatradiol does not increase the hair growth as much as minoxidil, but aids in reducing the hair loss and stabilization of the hair count. It is very well tolerated and can be considered in women with mild androgenetic alopecia. (15)
3. Natural DHT blockers alternatives
There is a plethora of natural options available to block DHT. Some studied in hair loss and some not. We are going to focus on the ingredients which have been proven effective in hair loss.
Saw palmetto
Constituents of saw palmetto like beta sitosterols and fatty acids show anti-androgenic activity by blocking both the subtypes of 5 alpha-reductase (like finasteride) and thus it is effective in the treatment of mild to moderate androgenetic alopecia.
When supplemented orally with 320 mg for 24 months, saw palmetto showed an improvement in hair growth in 38% of male patients as compared to 68% in the finasteride group, mostly in the vertex area. It was more associated with the stabilization of hair loss than improvement. (16)
Saw palmetto in lotion form has also demonstrated a 35% increase in hair density after three months. In the evidence that is available to date, it has a better side effect profile than finasteride and thus can be used by those who do not tolerate finasteride or want to maintain the results of finasteride without continuing the treatment. (17)
Pumpkin seed oil
The pumpkin seed oil contains phytosterols responsible for blocking DHT. 400 mg of Pumpkin seed oil containing supplement resulted in average hair growth of 40% in the subjects at the end of 24 weeks. (18)
However, it is to be noted that this supplement also contained other antioxidants and ingredients, making it unclear if the effect was really due to pumpkin seed oil. A topical solution with pumpkin seed oil showed hair growth in mice, but the effect in humans is yet unresearched.
Licorice extract
Licorice extracts have glycosides, phenolics, and flavonoids that block the conversion of testosterone to DHT and have thus shown some success in the treatment of androgenetic alopecia. (19)
Green tea
Green tea shows its magical effect on multiple aspects of our health by virtue of the presence of antioxidant and anti-inflammatory polyphenols. One of the main constituents of polyphenols is EGCG, which inhibits alpha-reductase activities and promotes hair growth. (20)
Its action could be too weak to work alone, but could boost other hair growth stimulators' activity in androgenetic alopecia. (21)
Possible side effects of DHT blockers
Like for every medication, DHT also needs to be assessed for its risk-benefit ratio. Despite being what you could call a wonder drug for androgenetic alopecia, DHT blockers do come with their share of side effects that need to be kept in mind:
Pregnancy: 5-alpha reductase inhibitors like finasteride and dutasteride are pregnancy category X, which means they can cause birth defects. That is why they are contraindicated in pregnancy.
Prostate test: Finasteride interferes in the value of Prostate-Specific Antigen (PSA), which is used in the screening diagnosis of prostate cancer. If you have an appointment for Prostate cancer screening, don't forget to let your doctor know that you are taking finasteride. Interestingly, saw palmetto does not affect the blood values of PSA.
Sexual side effects: Because of their sexual side effects, finasteride and dutasteride have been the favorite controversy-babies of trichology. Loss of libido, erectile dysfunction, and ejaculatory issues are the most common sexual side effects. Its occurrence frequency is 2.1- 3.8% in various reports, but it is not dose-dependent (same for 1 mg and 5 mg) and the same for dutasteride and finasteride.
These side effects in most users improve and return to normal on stopping the therapy or on continuing the use for a more extended period of time. (22)
Interestingly, the incidence of sexual side effects increases when the patients are informed of them beforehand, the so-called nocebo effect. Some of the recent studies suggest that in a tiny fraction of people, the sexual side effect may persist for a few months even after stopping the medicine.
The international society of hair restoration surgery's task force clearly states that: "To date, there is no evidence-based data substantiating the link between finasteride and persistent sexual side effects in the numerous double-blinded, placebo-controlled studies using finasteride 1 mg for hair loss."
Other side effects: Other side effects of finasteride and dutasteride include low blood pressure, and rarely psychological side effects like mood changes, lack of concentration, etc. finasteride also reduces tolerance to alcohol in some, causing disturbing effects on alcohol consumption.
Topical therapy: As topical treatment in 0.25-1%, finasteride is absorbed very little in the body, so the systemic side effects are negligible. Topical finasteride and azelaic acid could result in local redness and irritation upon use. The use of moisturizing lotion before the application could reduce the local side effect.
Conclusions
DHT blockers provide the most effective way of battling androgenetic alopecia. There are strong and weak, oral, and topical ways of blocking DHT. It is important to be informed of the action, effectiveness, and side effects profile of various options before choosing primary therapy and maintenance since it needs to be continued over a long duration.
The side effects should not generate a phobia but an understanding that DHT blockers, despite being a great option for hair loss, are not for everyone. The decision to start on a DHT blocker, especially oral finasteride and dutasteride should be taken by your doctor.
I hope you found my summary of various DHT blockers useful.
Was this article helpful?