Oral Minoxidil for Hair Loss: Better than Topical?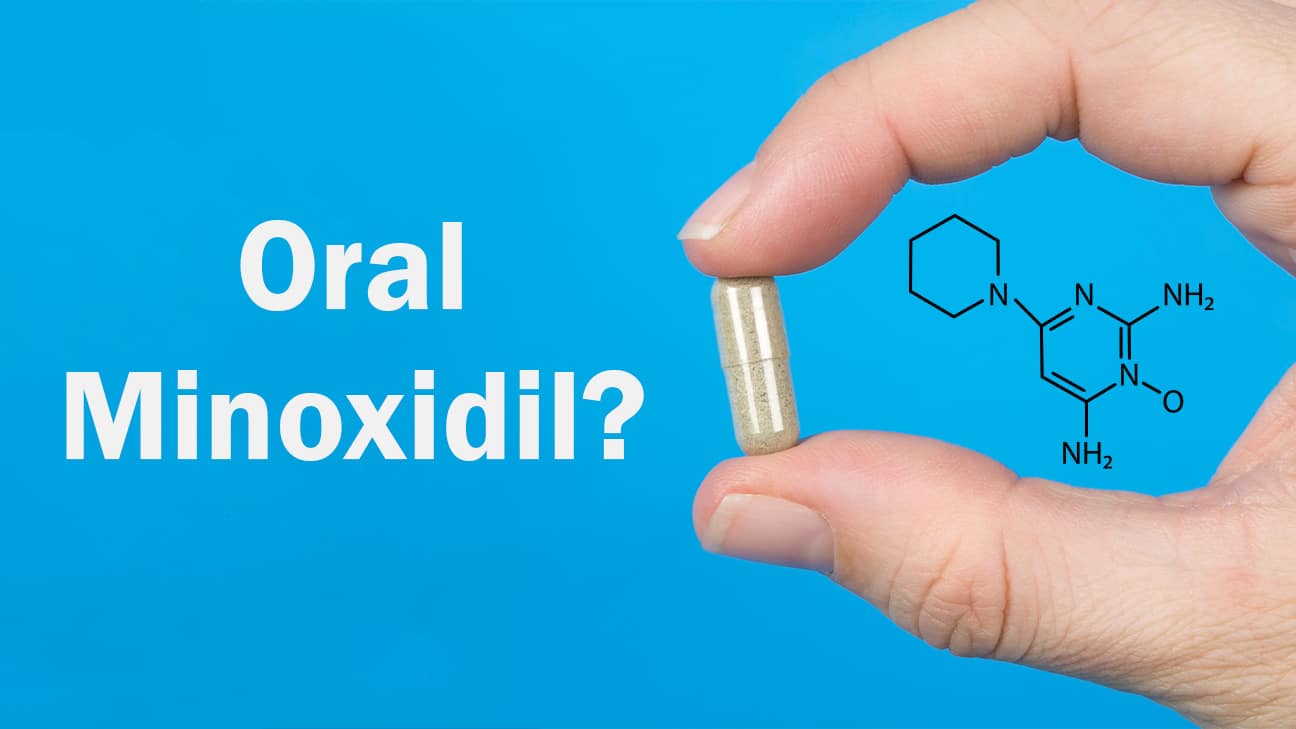 Minoxidil is one of the most commonly used treatment options for hair loss. Although only topical formulation is FDA-approved for hair loss treatment, studies now show that low-dose oral minoxidil (LDOM) could be just as effective.
History of oral minoxidil
When Upjohn Company, which later became part of Pfizer, developed minoxidil in the 1950s, they had no plans to use it for treating hair loss. The medication was intended to treat ulcers.
However, animal-based studies revealed that it was not so effective in ulcer treatment. Instead, it was found to be a potent vasodilator (widening of blood vessels). Due to its vasodilatory effects, the Food and Drug Administration (FDA) approved minoxidil for use in the treatment of high blood pressure in 1979. Although it was very effective in lowering high blood pressure, patients started presenting with unprecedented hair growth as a side effect.
Researchers soon realized that this side effect of minoxidil could have potential benefits in treating hair loss. They decided to research and develop a formulation of minoxidil that could be applied directly onto the balding scalp.
A 1987 study demonstrated a statistically significant increase in total hair count after 6 months of use of 1 % and 2 % minoxidil solution compared to the baseline. This eventually led to the FDA approval of 2% topical minoxidil in 1988 for male hair loss treatment, and the rest is history.
Minoxidil's mechanism of action
The major culprit for causing pattern hair loss is dihydrotestosterone, abbreviated as DHT. Thus, any medication that can reduce the levels of DHT in the body is a potential treatment option for hair loss.
This is where medications such as Propecia® or topical finasteride, and supplements such as saw palmetto come in. But like all drugs, finasteride and saw palmetto have their shortcomings.
Minoxidil, on the other hand, has no influence on DHT and does not impact hormone production – but is one of the most effective treatment options for hair loss. So, how does it work? What is its mechanism of action?
For minoxidil to work in the body, it is first converted to an active form called minoxidil sulfate by an enzyme called sulfotransferase. The activity of sulfotransferase predicts the outcome of minoxidil treatment for hair loss.
Unfortunately, topical minoxidil works effectively for only about 30% to 40% of men and women because they lack sufficient activity of the enzyme sulfotransferase.
But, a lower follicular enzymatic activity threshold is required for the bioactivation of oral minoxidil compared to topical minoxidil. This suggests that the scalp will be more susceptible to oral minoxidil.
When given orally, minoxidil is converted by sulfotransferase in the liver and platelets. This eventually reaches a higher follicular concentration as compared to topical minoxidil, which relies solely on hair follicle sulfotransferase activity.
Oral minoxidil vs. topical minoxidil
Recently, there have been a number of studies researching the use of low-dose oral minoxidil for hair loss. They show that low-dose oral minoxidil is considered an effective hair loss treatment option, and is especially favorable for patients who don't like the process of applying topical minoxidil to their scalp.
Efficacy
Results from a 3-year retrospective case series indicated increased scalp hair growth (33/51; 65%) and decreased hair shedding (14/51; 27%) with LDOM.
An article evaluated 16 studies with 622 patients using LDOM as the primary treatment modality for hair loss. They found it to be an effective and well-tolerated treatment alternative for healthy patients having difficulty with topical formulations.
A case-control study that involved 80 women and 25 men treated with 0.625 – 2.5mg minoxidil given once daily for > 52 weeks demonstrated clinical improvement in 52.4% of patients and stabilization in 42.9% of patients. There was a significant difference in clinical response between the patient and control group, p < 0.001.
In a study conducted on 52 subjects with female pattern hair loss, it was determined that 1 mg of oral minoxidil was even more effective than 1 ml of 5 % topical minoxidil applied daily. The increase in hair density was predominant among the subjects using oral minoxidil – at week 24, an increase of 12% in total hair count was observed, while the topical minoxidil group had an increase of 8 %.
Oral vs. topical minoxidil for the treatment of female-pattern hair loss (24 weeks treatment)
For comparison of the efficacy of oral vs. topical minoxidil in the male subjects, in the below graph, we consolidated two 24-week studies. One study evaluated the effects of 1 ml 5 % topical minoxidil (foam) and another 5mg oral minoxidil, both used once a day.
Oral vs. topical minoxidil for the treatment of male-pattern hair loss (24 weeks treatment)
In both of these studies, oral and topical minoxidil demonstrated very similar results – total hair count at the end of both studies increased by ~19%.
Oral minoxidil can be combined with other hair loss therapies such as spironolactone and dutasteride. Combination with topical minoxidil does not offer any significant improvement over LDOM taken alone.
Apart from androgenetic alopecia, low-dose oral minoxidil has been found to be useful in other hair loss conditions – telogen effluvium, alopecia areata, traction alopecia, loose anagen hair syndrome, chemotherapy-associated alopecia, and scarring alopecia.
If the effectiveness of oral and topical minoxidil is comparable, how do you decide on what to choose? Let's take a look at other factors that might help to make your decision of what formulation suits you best.
Ease of use
Topical minoxidil provides a localized approach to treatment because it is applied directly to the part where you want to achieve improved hair growth. However, there are a few reasons to prefer oral minoxidil.
Oral minoxidil is easy to use because you generally have to take just one tablet per day. It is ideal for those who don't prefer the messiness involved with some of the topical solutions. Some topical minoxidil solutions can make your hair look oily and sticky. It is easier to apply keratin fibers to visually enhance scalp fullness without the use of topical minoxidil.
Skin irritation occurs due to some components of topical minoxidil, this is avoided with oral minoxidil. Oral minoxidil is cheaper compared to topical minoxidil. All of these reasons make oral minoxidil a preferable option for most people.
Dosage of oral minoxidil
The typical dose of oral minoxidil used for the treatment of high blood pressure ranges from 10-40 mg daily. Lower doses are sufficient to treat alopecia while minimizing the side effects seen at conventional doses. That is why the term LDOM (low-dose oral minoxidil) is used to treat hair loss.
In female pattern alopecia, the recommended dose ranges from 0.25 – 1.25 mg/day. This should be started with the lowest dose and stepped up only if necessary. It is usually given for a minimum period of six months.
In male-pattern alopecia, the recommended dose ranges from 2.5 – 5 mg/day. Starting doses of 1.25 mg/day can be tried, but a higher dose (2.5–5 mg/day) may be required if the response is not achieved after six months. Very low-dose oral minoxidil (0.25 mg/day) is not recommended in males as studies have not found it effective.
As the tablet is not available in very low dosages, you should get a tablet cutter from the pharmacy or ask them to compound it for you.
Side-effects of oral minoxidil
A study that evaluated the safety of low-dose oral minoxidil for hair loss revealed that the major consequence of this pharmacologic process is that you may experience hypertrichosis – hair regrowth in unwanted areas of the body such as the face, chest, and legs. This side effect was present for 15.1 % of subjects.

While this is a desirable side effect for some men, it may be an unwanted side effect for women since most women dread body hair. But this can be easily treated by hair removal techniques such as epilation, laser hair reduction, etc. The benefits of having a full head of hair outweigh this particular side effect.
Low-dose oral minoxidil can cause a few systemic side effects, which include:
Although low-dose oral minoxidil is considered a safe option as a treatment for hair loss, a few life-threatening adverse effects like pericardial effusion, pleural effusion, and anasarca have been reported. Pericardial effusion is a relatively common side effect seen at higher doses of minoxidil (3-5%), but can also happen at lower doses.
Interactions with other medications
Minoxidil can interact with other medications and either reduce their effectiveness or worsen their side effects. This is why you should be careful using oral minoxidil if you have a pre-existing medical condition for which you are receiving treatment.
While this article does not list all the drugs that interact with minoxidil, you should rely on your doctor's advice before deciding on using oral minoxidil with another medication simultaneously. A few examples of drugs not to use with oral minoxidil are metronidazole, guanethidine, and disulfiram.
Summary
Oral minoxidil is an effective treatment for hair loss that is convenient to use and shows similar results to the topical formulation of minoxidil. It is most suited to young adult patients with moderate patterned hair loss, intolerance or no response to topical minoxidil, and low compliance.

However, it is an off-label therapy and doses must be individualized. more studies are required to further evaluate its optimal dosage and safety profile for long-term use.
Note that in the event of an overdose, oral minoxidil might have severe side effects. This means that you should take oral minoxidil for hair loss only under the guidance of a certified medical professional.
Was this article helpful?