Stem Cell Therapy for Hair Loss: Potential and Limitations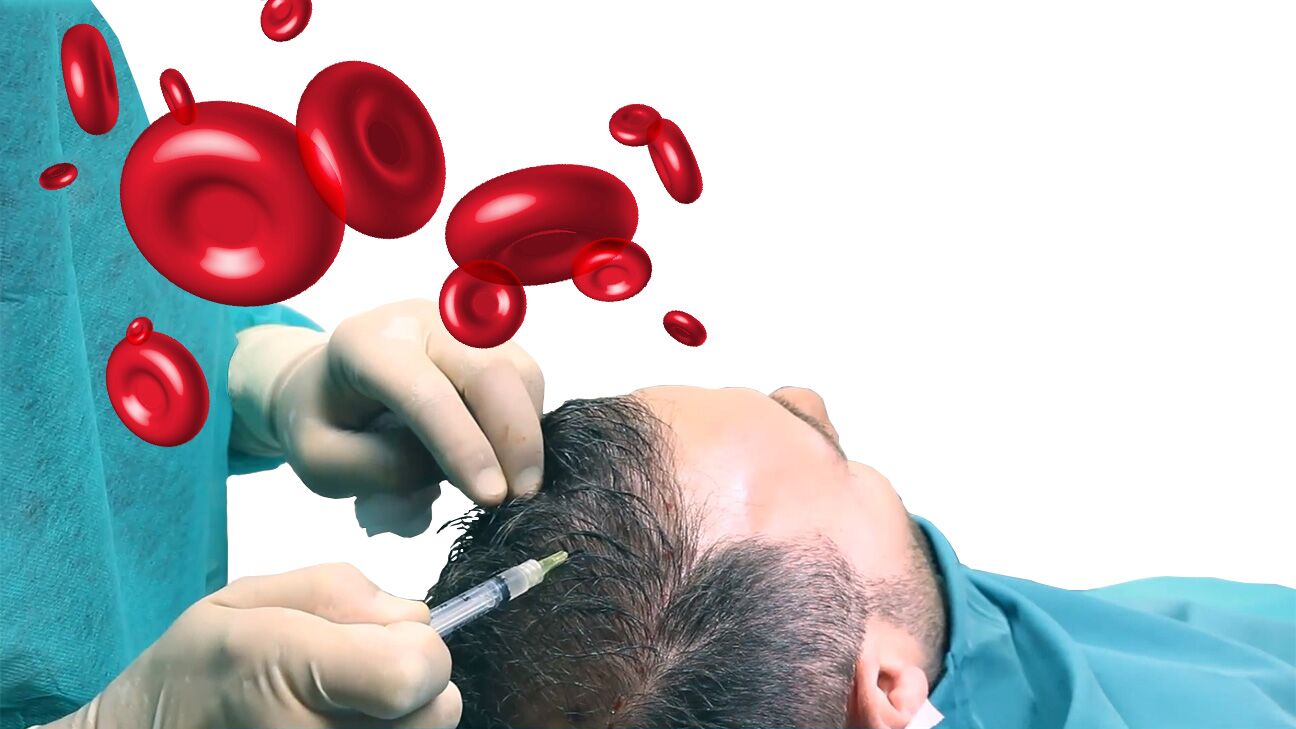 In the past few years, there have been many advances in the treatment of hair loss. It is very difficult for a patient to know what is effective and what is not. As of today, there are only two FDA-approved medications for the treatment of patterned hair loss – topical minoxidil and oral finasteride. However, these medications have a few limitations and side effects.
Stem cell therapy is a relatively novel therapeutic option that aims to reactivate the hair follicle stem cells. This helps to regenerate the cells around the hair follicle, improving the growth and development of hair.
When it first made an entrance decades ago, stem cell therapy did not have sufficient scientific evidence to back it up. So it was not very successful and lost its standing among the first-line therapies for hair loss.
As more scientific research appears, there are newer and more targeted stem cell therapies available, showing more promise than their predecessors. This article will talk about the concept of stem cell therapy for hair loss.
What are stem cells?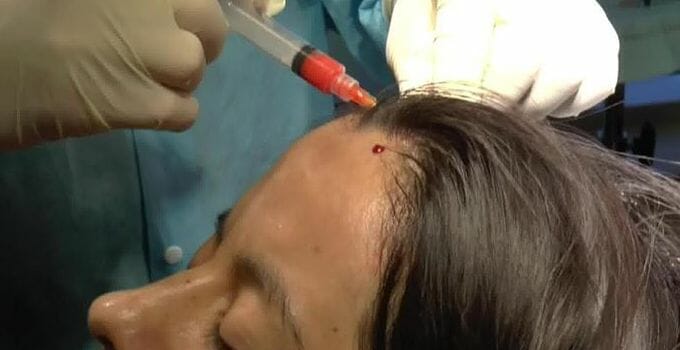 Stem cell therapy is a part of the regenerative medicine field. Regenerative medicines are innovative ways to repair or regenerate defective cells or tissues in the body. They act at the fundamental step of cell division.
Stem cells are, what one could call, master cells. They have the ability to self-renew and can evolve into other types of cells. Hair has its own stem cells in a 'pocket' in the hair follicle, called the hair bulge region. The stem cells in this region are integral to hair regeneration and growth. Activating stem cells helps transition the hair follicle from a miniature version to a thicker and longer version.
The goal of stem cell therapy is to introduce such master cells into this "pocket", which can eventually transform into hair stem cells and promote hair growth. The source of stem cells can be:
There are two main ways in which stem cells are sourced: autologous and allogeneic. The stem cells in autologous transplants come from the patient itself. The stem cells in allogeneic transplants are from another person, either a matched related or unrelated donor. Autologous stem cells are more commonly used as there is a lesser risk of immune rejection or infection.
How can stem cells be used for hair loss treatments?
Stem cells can be introduced into the target area by various methods.
One of the most studied sources of stem cells in hair loss is fat tissue. In addition to being an energy storage, it is a rich source of stem cells. A large variety of regenerative products can be created from adipose tissue, including nano fat, a stromal vascular fraction (SVF), mesenchymal stem cells, and a stem cell conditioning medium.
This makes fat-derived stem cells one of the ideal sources for alopecia treatments. Fat stem cell conditioned medium, which is produced when fat-derived stem cells are cultured, is rich in growth factors and has also been utilized to treat hair loss. The conditioned medium could either be injected, applied with a microneedling technique, or injected superficially using a mesotherapy gun in multiple sessions.
A recent study using stromal vascular fraction (SVF) was done on 4 men and 5 women with androgenetic alopecia. A single dose of autologous SVF was injected into the balding scalp and assessed for hair skin quality, hair thickness, and hair density at 3 and 6 months. There was a significant increase in hair density within six months.
Stem cells can even be isolated from hair follicles and the surrounding tissues from the scalp's unaffected portion. A small biopsy from the scalp and subsequent centrifugation of the tissue gives the stem cells. A study on 11 patients with pattern hair loss had an improvement in hair density (see Fig. 1) compared to non-treated patients.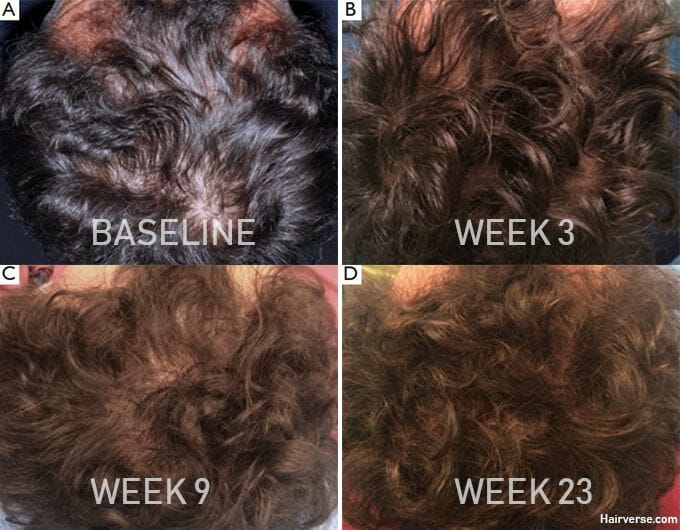 Regenera activa
Regenera is a micrografting technology where autologous tissue samples are taken and processed to create a stem cell concentrate. In this method, three 2.5 mm samples of hair follicles are taken from the back of the scalp.
These tissue samples are then placed into the 'Regenera' machine for around 5 minutes. In this step, the tissue is disintegrated and centrifuged, and the stem cells are extracted. These stem cells are then injected superficially into the scalp (the affected area) using a thin needle.
This procedure is a little uncomfortable but has minimal downtime. Donor areas heal in a week or two. Results are promised within six months. It costs anywhere between 3000 to 10000 US dollars for this treatment.
In a study, the Regenera cell suspension was injected into the scalp of 11 patients affected by androgenetic alopecia. There was a 29%±5% increase in hair density in the scalp area receiving treatment as compared to the area receiving placebo, after 23 weeks.
Replicell
A study was done to assess the effectiveness of a new type of stem cell therapy, called Replicel. In this trial, a biopsy was taken from the back of the patient's head. Dermal sheath cup cells (a type of stem cell near the hair follicle) were isolated and multiplied in the lab and injected into balding areas on the patient's scalp. There was a significant improvement in hair density and diameter compared to placebo, but the effect only lasted 9 months.
Stem cells derived from bone marrow are as efficacious (and safe) as hair follicle-derived stem cells. In a study, a single treatment session in 20 patients with alopecia areata and 20 with pattern hair loss showed similar improvement in both bone marrow-derived and hair follicle-derived stem cells after six months.
There are no studies yet on alopecia patients using umbilical cord stem cells. It is an area for future research as there are a few benefits. It is non-invasively sourced, there are many donors, no ethical concerns, less immunogenicity, high cell proliferation, and broad differentiation potential.
Interestingly, a combination of stem cells and PRP therapy (platelet-rich plasma rich in growth factors) has also shown some promise. In a study, PRP was combined with fat-derived stem cells and injected into a single area on the scalp of 10 patients with male pattern hair loss. A significant increase in hair density was observed in the treated area compared to the non-treated area at 6 and 12 weeks.
Stem cells as a topical therapy
While most studies involve injecting stem cells superficially into the scalp, a few recent studies show a positive effect of topical application of stem cells.
In a randomized double-blinded study, fat-derived stem cells were applied twice a day topically. At weeks 8 and 16, hair growth and hair diameter both showed a significant improvement from the baseline in the treatment group. There were no consequential side effects.
While attractive, this method's real-life application remains questionable because of the elaborate process required to obtain the product. Since androgenetic alopecia is a chronic hair loss condition, the process and the cost involved could become deterring.
A case report showed that the application of stem cell serum once monthly for 6 months caused effective regrowth of scalp hair in a patient suffering from post-COVID telogen effluvium. He was not responding to the standard treatment of minoxidil.
Some stem cell serums are available in the market, such as Calecim and Celprogen. However, they cost a lot and there are insufficient scientific studies to back them up.
Limitations of stem cell therapy
Even with all the promising studies, stem cell therapy is still far from being the first-line therapy for hair loss because of the following limitations:
There are few studies that speak in favor of stem cell therapy and show some degree of success with it. But is it better than the other therapies on offer for androgenetic alopecia? I strongly doubt that. At some point in time, the treatment costs may exceed the cost of hair transplantation.
Conclusion
The research behind stem cell therapy and its use in real life is still in an early stage. It involves a complicated theory with practical limitations. More research is required before considering it on par with standard therapies for hair loss such as minoxidil, finasteride, or even platelet-rich plasma therapy.
Although the results are promising, there are minimal studies. More robust studies are required to establish the ideal type of stem cells to be used, mechanism of action, safety, and efficacy, how to collect and prepare it, and quantity and number of doses required.
Is it worth spending so much money on this therapy, I have my reservations. More cost-effective stem cell therapy options are required. Until then, it is better to consider this as a last-resort therapy option for hair loss.
Was this article helpful?