Pyrilutamide for Hair Loss Treatment: What We Know So Far
Pyrilutamide (KX-826) is a topical androgen receptor (AR) antagonist, being developed as a potential topical treatment for androgenetic alopecia.
The drug innovator is Kintor Pharmaceutical Limited, known for developing and commercializing innovative treatments for androgen receptor-related diseases like androgenetic alopecia, acne vulgaris, and certain cancers.
There are ongoing clinical trials to prove its efficacy and safety, which may eventually lead to better accessibility and FDA approval.
As of today, effective treatments to improve hair thickness and hair growth among androgenic alopecia patients are limited. There are only two FDA-approved drugs for male androgenetic alopecia – topical minoxidil and oral finasteride.
For female pattern hair loss, only topical minoxidil is FDA-approved. However, both of these drugs have a few limitations and side effects. Hair transplantation works well but is expensive. Topical clascoterone 7.5% solution (Breezula) is another topical androgen receptor inhibitor undergoing clinical trials.
Pyrilutamide's mechanism of action
Pyrilutamide is an androgen receptor antagonist that prevents dihydrotestosterone (DHT) from binding to its receptors in hair follicles. This prevents the effects of androgens on the hair follicle, such as miniaturization and eventual hair loss.
This drug differs from the 5-alpha reductase inhibitors that are commonly used in the treatment of androgenetic alopecia – finasteride and dutasteride. They prevent the conversion of testosterone to dihydrotestosterone by inhibiting the enzyme, 5-alpha reductase.
Pyrilutamide is a topical anti-androgen. The clinical trials done so far have shown that it does not decrease systemic androgen levels. Thus, it is unlikely to cause unwanted adverse drug reactions that are usually seen in patients using oral 5-alpha reductase inhibitors – decreased libido, erectile dysfunction, and depression being the most notable ones.
However, these observations come only from the clinical trials done by the company. Once pyrilutamide is available in the market, more research should be done to understand its safety and efficacy profile. It can also be compared against topical finasteride.
Topical pyrilutamide, with its unique mechanism of action and safety profile, has the potential to become another FDA-approved drug. It can be a useful addition to the existing treatment options against androgenetic alopecia.
Clinical trials of pyrilutamide for hair loss treatment
Phase 1/ 1b clinical trials
A recently completed phase-1 clinical trial done in the US was a randomized, double-blind, placebo-controlled, parallel-group, and dose-escalation study. It involved 40 healthy adult male patients with androgenetic alopecia.
This clinical study was done to evaluate the safety, tolerability, and pharmacokinetics of the topical AR antagonist, pyrilutamide, following multiple ascending dose administrations of 3mg, 12mg, 48mg, and 96mg.
The blood concentration of pyrilutamide among the subjects remained extremely low throughout the study. In terms of safety, there were no associated severe adverse drug events.
Phase-2 clinical trials
Several clinical trials have been done in China and in the US. In 2020, the first phase-2 clinical trial was a multi-regional randomized placebo-controlled study done in China.
In this study, 120 subjects with male androgenetic alopecia were included and randomized into four dose groups: 2.5 mg (0.25%) pyrilutamide twice a day, 5.0 mg (0.5%) once a day, 5.0 mg (0.5%) twice a day and the placebo (2,5,6). The main result of this study was the change in non-vellus target area hair count (TAHC) from the baseline and after six months of treatment.
Those on pyrilutamide 0.5% applied twice a day exhibited statistically significant improvement in total area hair count after six months of treatment. There was an increase of 22.73 hairs per cm2, as opposed to the placebo group which had an increase of only 15.34 hairs per cm2. Because of these results, 0.5% pyrilutamide solution was used in the phase 3 clinical trial.
In December 2022, the results of another phase-2 clinical study were published, on the treatment of female pattern hair loss (female AGA).
The placebo group had 41 participants, and 119 subjects with female AGA were randomly assigned to four treatment groups with varying doses of pyrilutamide:
Results showed that the pyrilutamide 0.5% solution applied once daily significantly increased the hair count by 11.39 hairs per cm2 from baseline after 24 weeks of treatment. Improvement in hair density was seen as early by the end of week 12. Like the previous phase II trials, it exhibited a good safety profile.
Most recently, the results from the phase-2 trial conducted in the USA were released in May 2023. It was a randomized, double-blind, placebo-controlled, and parallel-group study designed to evaluate the efficacy and safety of pyrilutamide for the treatment of male pattern alopecia. A total of 123 patients were enrolled in the study. From this, 93 patients were randomly assigned to different dosage groups – 0.25% once daily, 0.5% once daily, and 0.5% twice daily. The remaining 30 patients were randomly assigned to placebo groups.
The study reported an increase in the target area hair count by about 10 hairs per cm2 from baseline, after 24 weeks of treatment with the 0.5% twice-daily regimen.
Quoting from their press brief, The results are statistically and clinically meaningful and demonstrated a favorable safety profile. The company is preparing for subsequent FDA meetings on the results of the Phase-2 clinical trial and intends to commence Phase-3 clinical trials in the US/globally.
Phase-3 clinical trials
In November 2021, the Phase-3 clinical trial protocol for pyrilutamide to treat male androgenetic alopecia was greenlighted. A randomized, double-blind, placebo-controlled, multi-regional phase-3 clinical trial will be done in 26 dermatology centers in China.
As of March 2023, 740 male patients have been enrolled in this study. This study is designed to evaluate the efficacy and safety profile of pyrilutamide for male pattern hair loss. The trial duration is 24 weeks with a 4-week follow-up. The primary endpoint is to see the change in non-vellus TAHC from baseline at the end of week 24. The results are expected by December 2023.
How to use pyrilutamide?
Based on the data from clinical trials, pyrilutamide 0.5% solution has to be applied once daily for female AGA and twice daily for male AGA to get best results.
Side effects of pyrilutamide
Based on the data from clinical trials, adverse drug events were limited to:
Similar findings were seen with the placebo. So the side effects are most probably due to the excipients and not the drug itself. The side effects lasted briefly and improved easily. Larger-scale clinical trials are required once the drug becomes available in the market.
Availability of pyrilutamide
At the moment, pyrilutamide 0.5% solution is not available in the mainstream market. It can be purchased online for research purposes.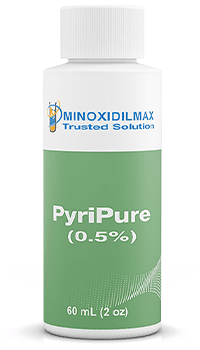 Conclusion
Pyrilutamide is a novel topical drug that can potentially help in the treatment of both female and male pattern hair loss. It has demonstrated reasonable efficacy and safety based on the clinical trials completed so far.
The ongoing clinical trials in the USA and China will give us a better idea of this drug in the days to come. This drug by Kintor Pharmaceuticals could become an excellent addition to the existing FDA-approved drugs for androgenetic alopecia.
Was this article helpful?