Ketoconazole for Pattern Hair Loss: How Effective Is It?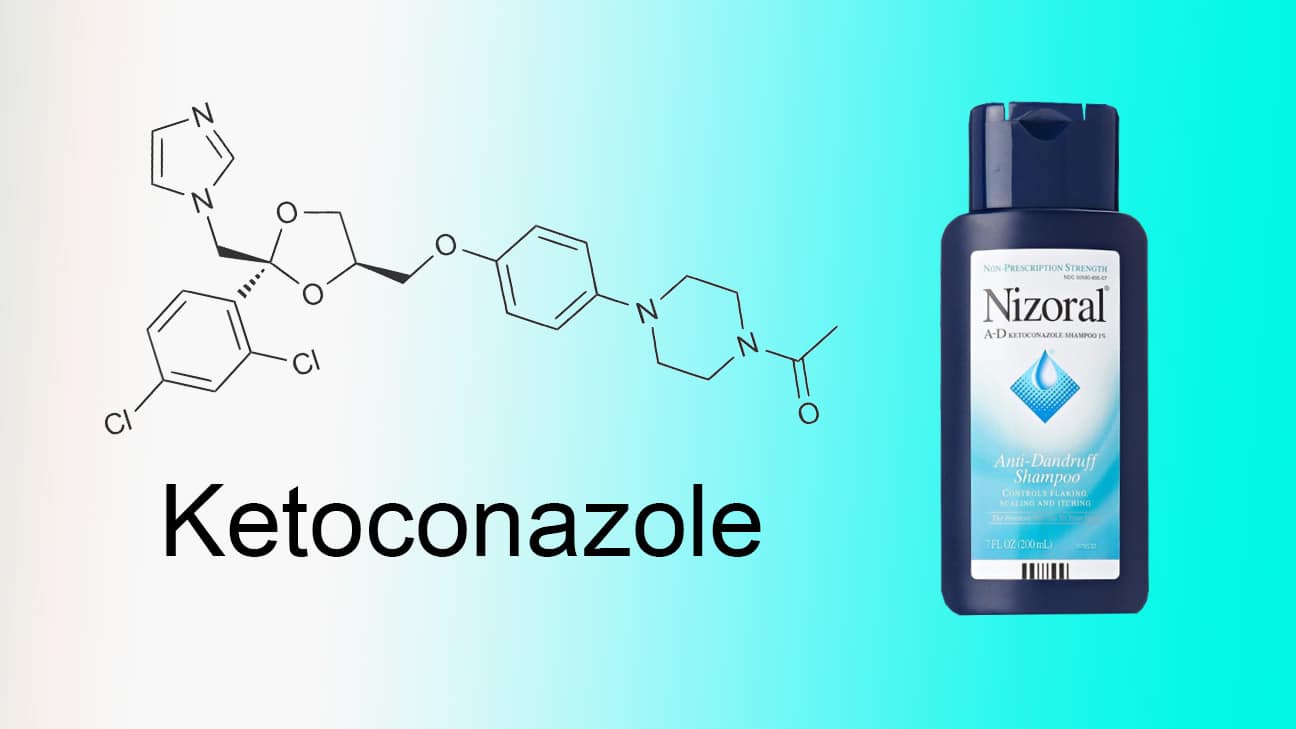 In the search for various treatments for pattern hair loss, we sometimes discover treatments that were visible in plain sight for years but not used for the purpose of preventing hair loss.
One is ketoconazole – an old medicine used to treat fungal infections. It recently has had a spike in interest for its potential in treating pattern hair loss, also known as androgenetic alopecia. Let's talk a bit about this ingredient – its role in hair disorders, and how it's helpful to treat hair loss.
What is ketoconazole?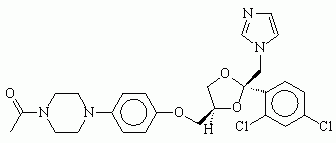 Ketoconazole is primarily used as an antifungal agent since it inhibits fungal cell wall formation. It is often present in various anti-dandruff and anti-hair loss shampoos. It is also available as creams and lotions to treat fungal infections and seborrheic dermatitis.
Apart from anti-fungal properties, it also exerts anti-inflammatory activity and can potentially block the production of DHT (dihydrotestosterone), the key hormone that causes androgenetic alopecia.
Ketoconazole's role in the treatment of hair loss
Ketoconazole works in androgenetic alopecia by two primary mechanisms:
1. Reducing inflammation and microorganism growth:
One of the possible causes of androgenetic alopecia is mild inflammation around hair follicles. Seborrhea or oily scalp is a common finding in people with androgenetic alopecia. This causes the growth of lipophilic (oil-loving) microbes, most notably the fungus Malassezia.
Inflammation is triggered by the presence of these microbes around the hair follicle. Androgenetic alopecia is further worsened by other inflammatory skin and scalp diseases, like seborrheic dermatitis, psoriasis, etc.
Ketoconazole works as an anti-inflammatory and antimicrobial agent, especially against Malassezia species. This restores the normal ecosystem of the hair follicle, thus reducing hair loss. Ketoconazole's anti-inflammatory action is almost comparable to a mild topical steroid.
2. As an anti-androgen:
Testosterone, which eventually gets converted to dihydrotestosterone by the enzyme 5-alpha-reductase, and its binding to androgen receptors on hair follicles, is one of the most important factors that cause androgenetic alopecia.
People predisposed to androgenetic alopecia usually have increased 5-alpha reductase production and increased expression of receptors that bind to DHT.
One of the most effective medicines for androgenetic alopecia is oral/ topical finasteride, which reduces DHT levels but doesn't prevent it from binding to the receptors. In high doses, oral ketoconazole is known to have anti-androgen effects. In humans, ketoconazole inhibits the binding of 5α-reductase to sex hormone globulins, and, unlike finasteride, also directly binds to androgen receptors.
Therefore, it is believed that topical application of ketoconazole will also show anti-androgen effects and will be effective in treating androgenetic alopecia. It can boost the action of existing treatments like finasteride, causing better overall blockage of DHT.
Studies supporting the use of ketoconazole in androgenetic alopecia:
Oral ketoconazole has not been investigated for its effectiveness against hair loss. However, various topical ketoconazole formulations have been studied for its usefulness in reducing androgenetic alopecia and promoting hair growth.
A small study with 39 subjects comparing 2% ketoconazole shampoo with unmedicated shampoo, 2-4 times a week, over 21 months showed that the ketoconazole group had an increased mean hair diameter as opposed to the non-medicated shampoo, which showed a decrease in hair diameter over this duration.
After six months, a small subset of the ketoconazole shampoo group (4 subjects) was then compared for its effects against minoxidil 2%. A mean increase in hair diameter of 7% was seen in both groups (which is important since hormonal hair loss is associated with the miniaturization of hair follicles), and a greater increase in hair density was seen in the ketoconazole group as compared to 2% minoxidil group. The ketoconazole group also showed an increase in the anagen (growth phase) hair follicle.
Although the study may be too small to conclusively state that ketoconazole shampoo is better than minoxidil in androgenetic alopecia, it could be said that 2% ketoconazole shampoo does help in improving androgenetic alopecia.
Another study with 100 patients compared various regimens in androgenetic alopecia. They studied 10 patients using a combination of 2% ketoconazole shampoo thrice weekly and oral finasteride and found it superior to oral finasteride or topical minoxidil monotherapy. There was no significant difference between the combination of oral finasteride and ketoconazole shampoo versus the combination of oral finasteride and topical minoxidil.
There is another study conducted on 150 men with telogen effluvium (stress or deficiency-induced hair loss) and hormonal hair loss. The subjects were assigned to three groups receiving either 1% ketoconazole, 1% piroctone olamine, or 1% zinc pyrithione shampoos. Hair shedding decreased in all groups, but the ketoconazole group showed the highest reduction in hair loss.
Besides, hair diameter also increased in the ketoconazole group, whereas it decreased in the zinc pyrithione group. Interestingly, this effect was more prominent in the telogen effluvium group than in the androgenetic alopecia group.
A comparative study was done on 40 patients with female pattern hair loss. Patients were randomly assigned to two groups – one received 2% minoxidil solution, and the other received 2% ketoconazole solution. All of them were asked to apply 1ml daily on the scalp for 6 months. They were evaluated clinically and the areas were photographed using a digital microscope, every two months. At the end of 4 months, the minoxidil group showed better improvement.
But at the end of 6 months, both groups showed equal improvement. Only 10% of people in the ketoconazole group experienced side effects, compared to 55% of people in the minoxidil group. This means that although ketoconazole gives a slower response initially, the results are similar to minoxidil when used for a longer time, with fewer side effects.
Topical ketoconazole has been shown to stimulate hair growth in mice by converting hair follicles from the telogen (shedding) phase to the anagen (growth) phase. Another study on mice showed that topical ketoconazole increases the mean diameter and number of hair follicles as early as 21 days after use.
How to use ketoconazole for hair loss?
Ketoconazole shampoo
The most practical way to integrate ketoconazole into an anti-hair loss routine is to use a 2% ketoconazole shampoo. It is commonly available in drug stores and pharmacies as an anti-dandruff or anti-seborrheic dermatitis solution.
It is important to leave the shampoo on for 3-5 minutes after application, to facilitate penetration of ketoconazole into the hair follicles. In mild hair loss, it can be used as a standalone therapy. It can be combined with minoxidil and/or finasteride for moderate to severe androgenetic alopecia.
Ketoconazole cream and lotion
Ketoconazole is also available as a cream or lotion. This can be applied to the scalp and left overnight. As it is left on the scalp for a longer duration, it ensures more effective absorption compared to shampoo. It has to be applied to the affected areas and gently rubbed in.
Ketoconazole shampoo, lotion, or cream has to be used at least three times a week for 2 months to get reasonable results. It can then be used once to twice a week as maintenance therapy.
Side effects
Even though ketoconazole may be touted as a relatively safe therapy option, the following must be kept in mind before starting its use:
Limitations
Ketoconazole lotion has shown some potential success in hair growth, but the studies have only been performed in mice. No large-scale human studies or comparisons with other existing hair loss treatments are available.
Ketoconazole has not been FDA-approved for the treatment of androgenetic alopecia, so it is best used as an adjunctive therapy option along with minoxidil and finasteride.
Conclusion
Topical minoxidil and finasteride are the only FDA-approved medications for androgenetic alopecia as of today. They come with their share of limitations (since not all patients respond adequately), side effects, and controversies. Thus, the search for safer and more effective long-term therapy continues – either as a booster or as an alternative.
The exact mechanism behind ketoconazole's anti-hair loss action is unclear: is it hormonal, anti-inflammatory, or both?
Even though there are no large-scale studies or evidence for its role in androgenetic alopecia, topical ketoconazole seems like a promising and low-risk adjunctive therapy for androgenetic alopecia.
Was this article helpful?